Services
In addition to prints, I like to offer special services to suite each customer's wishes. My vision is for each customer to have a special and unique piece of my artwork. The labor rate is $50/hr, minimum 30 mins. Contact me for estimations.
Personalization
I can personalize and customize any print that I offer. The possibilities for additional features are endless. Please find additional information and examples in the 'Customization' tab.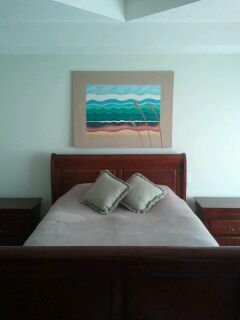 Color Matching for Interior Design
I can mix and match colors to suite any interior décor. I can personalize any print or painting to compliment any color scheme or design. This can be done by sending me samples of color scheme (eg. color palettes, sample fabrics) or photos of the room. "Seascape" is an example of color matching done inside of a client's personal bedroom.
Photo-to-Canvas
If its a photo, I can put it on canvas! If you want a personalized painting of any photo of yours (eg. pet, favorite location spot), you can send it to me and I can paint it. (Please note that I cannot reproduce anything copyrighted). "Dolphin Cove" is an example of multiple pictures I took at Sea World, Orlando.